The pellet boilers HIDRO MAGNA, are equipment for heating and / or DHW heating in premises of any kind of 48m2 to 310m2.

Its compact design and small size allows installation in tight spaces.

The team delivers excellent performance of 95% and has automatic cleaning of the burner and heat exchanger that allows the continued use of the boiler for 30 days without intervening in ordinary cleaning stages.

Its electronic control panel is very educational and parameterize the functions of the boiler and set its operation according to the proposed installation.

The device contains a reservoir pellet but there is the possibility of applying an external tank 200kg for greater operating autonomy.

DESIGN AND FUNCTIONALITY
When the project design of boilers HYDRO MAGNA began, objectives consisting in offering a compact pellet boiler high efficiency and ease of use that met the needs of the end user is established.

All these objectives have been achieved with complete solvency and can ensure that the boilers are equipment HIDRO MAGNA highest quality, performance, functional and with a very competitive price.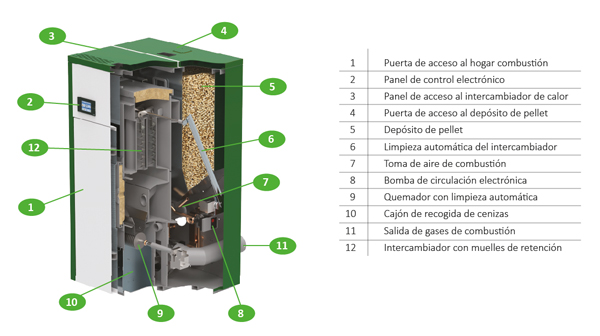 CHARACTERISTICS
- Powers heating from 18 to 32 kW.

- Minimum power consumption.

- Heating capabilities 48m2 to 310m2 with a single computer.

- Compact and small size.

- Yield 95% and certified CLASS 5 according to EN-303-5

- Hydraulic unit built comprising: expansion vessel, high efficiency pump, air vent, safety valve,

pressure gauge, etc.

- Safety components according to the highest standards.

- Vertical exchanger with smoke retaining springs for maximum performance.

- Quick start thanks to its long-term endurance made of ceramic.

- Fuel tank large capacity possibility of applying an annex deposit of 200 kg.

- Automatic Cleaning the silent burner without technical stops.

- Automatic cleaning of the heat exchanger completely customizable.

- Ash pan large capacity extraction alert.

- Exterior paneling thermally insulated to prevent heat loss.

- Programmable electronic board with connection for room thermostat, 3-way valve, pumps, etc.

- Setting operating according to the type of installation to perform.

- Time programming (daily, weekly or weekend).

- Operating hours counter, number of ignitions, etc.


To consult discounts or more information call Tel. 93-851 15 99
Request information